Two things to talk about soon:
1.) Snow has fallen, quite heavily. I'd produce photographic evidence, but unfortunately it's still hovering around 0°C and has since melted. A good half-inch or so throughout the day yesterday. It further confirms my prediction that this winter will be a cold one. Last year's sucked ass. Just wet, slushy, and miserable - and the lowest it got was -15°C. This year round it reminds me of the winter of 2005/2006 when I was studying here. It was roasting hot in September, then very mild until approximately the end of October, and then the snow began. In the first week of January of 2006 it dropped as low as -32°C. I'm looking forward to it, honestly, because when it's around -20°C and you're surrounded by a blanket of snow and there's no wind - it's like a fairytale and, despite what one might think, very dry. Complete contrast to the howling gales of Glasgow that chill you right to the bone, even though it's only something like 5°C
2.) The aforementioned Haye-Valuev fight takes place later today in Bern, Switzerland. It will be interesting to see if Haye will live up to his recent remarks about Valuev (circus freak, hairy animal, etc...), and his latest training method of beating up a dummy with a goblin mask on it. "That's Valuev," Haye pointed out, before smacking it at an open workout session on November 4.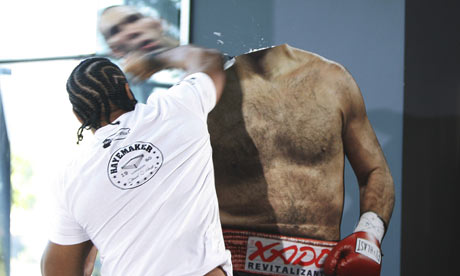 (That pic isn't from the workout session, just a press conference, but you get the idea)
Truth be told, Haye will
probably
get hammered, though all his cruiserweight fight wins were KOs, and he has lost only once to Carl Thompson back in 2004 (at the time he had 10 KOs). His manager threw in the towel after a right hand made Haye lose his balance, sending him in the direction of the canvas.
Here's how the two match up against each other. Note the respective hairiness.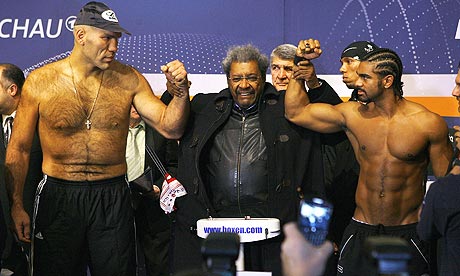 Pictures property of AP and Action Images